Afresh is purpose-built for fresh foods. Fresh foods are unique in their complexity — a case of blueberries needs to be treated differently than a shelf-stable box of cereal. Afresh goes beyond center-store demand forecasting and perpetual inventory to use machine learning to help grocery stores make smarter decisions across the fresh supply chain. What's good for business is also good for the planet, with less food waste and fresher foods.
The idenity
The mark is inspired by organic shapes — leaves and sprouts — arranged in a swirling motion, representing the type of sorting, thinking and operational order provided by Afresh's platform. Arranged in a perfectly engineered circle, it forms an engine-like spin. It is a synthesis engineering and organics. Technical acumen brilliantly applied to all phases of a fresh department.
Machine learning imagined
Our approach was to imagine a world of machine intelligence organizing the complexity of fresh produce. High quality renders of food provided a window into this world. We took inspiration from intelligent systems, data manipulation and machine learning concepts.
Delicious color
Putting fresh produce front and center means a bright, contemporary palette from which to pull. The wash of light green provides an enticing background for an electric set of colors to explode out from.
Tools for a thriving brand team
We collaborated closely with the brand team at Afresh and part of being good partners is handing off a system to work from.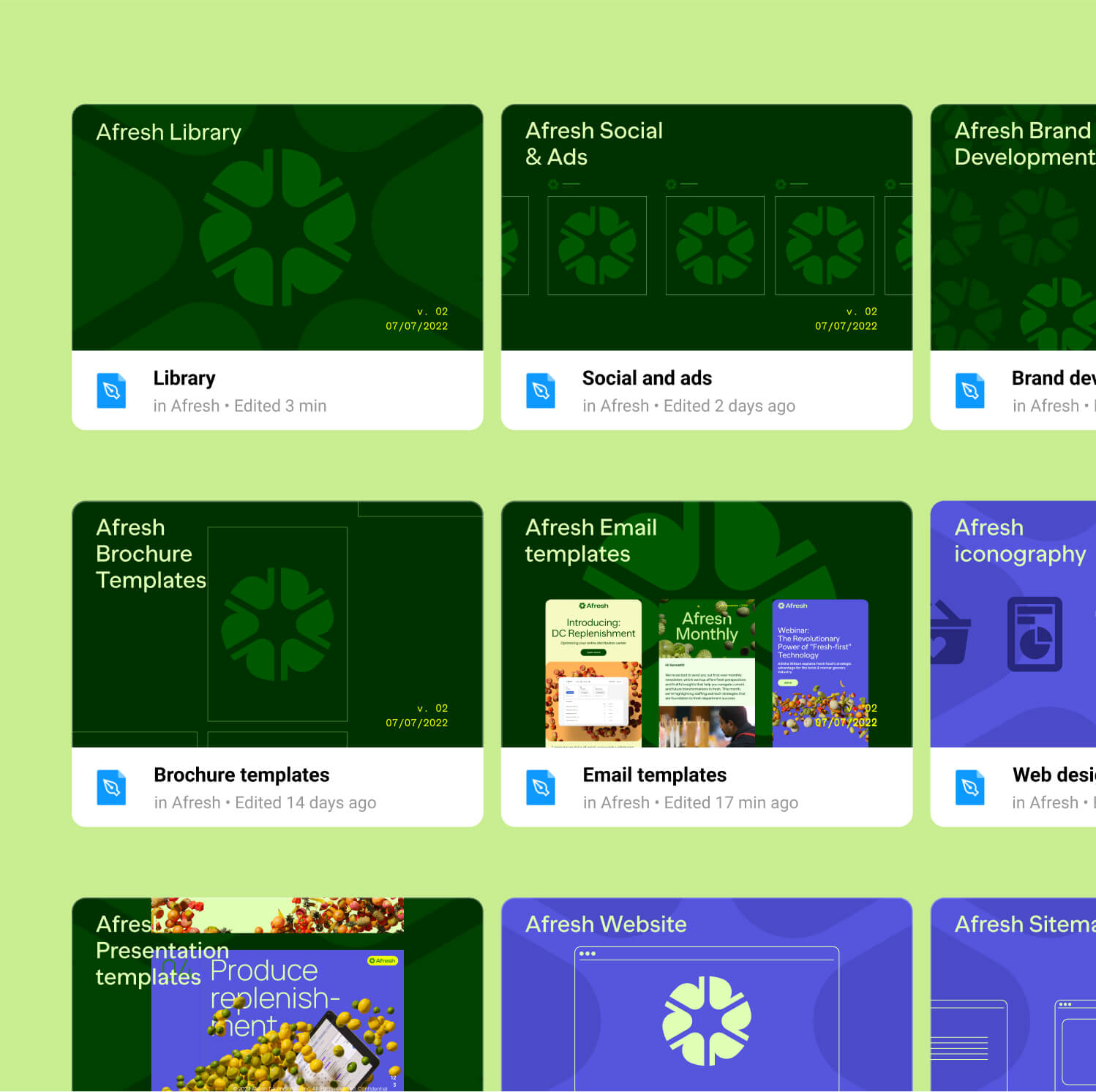 Services
Strategy

Brand strategy
Positioning
Voice & tone
Content
Copywriting

Brand

Identity
Brand system
Marks & symbols
Art Direction
Illustration
Iconography
Typography

Interactive

UI/UX Design
Visual Design
Art Direction
Motion Design

Development